Thursday, May 29th, 2008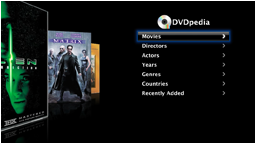 We are lucky to have a number of talented and passionate users who expand on our programs. Mathieu Guindon has dived into the internals of Front Row and come out with a DVDpedia plug-in for Front Row. DVDpedia has its own internal full screen interface but for those preferring to stay inside Front Row this plug-in is not only good looking but adds some features, such as browsing movies by actor. The browsing is fun and launching a linked movie is seamless. As with most things, it's better seen and experienced, so check out the video and download the plug-in.
This is a solid 1.0 release that is almost perfect for my use. I only wish it had a category for browsing the movies via my collections in DVDpedia. We started a forum thread if you have any other feedback.
We are pleased to add Front Row to the long list of Apple technologies that DVDpedia integrates with; thank you Mathieu!