Tuesday, April 27th, 2010
Thanks to DVDpedia user Burkhard Mudrick DVDpedia has two more iPhone-optimized export templates, Dark and Safari.
As the titles imply, one design is dark (sleek greys and black) while the other one integrates with the light and crisp Safari theme (cool blues and grey).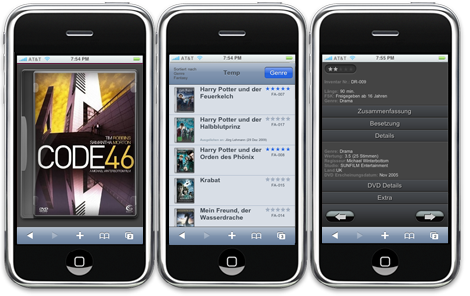 Both templates include a large number of fields in a neat collapsed form so as not to take up valuable real estate on your screen. Cover images get a shiny jewel-case look that works especially well with the Dark template, in my humble opinion.
These versions on our Extras page are the 'midi' versions of the template which include most but not all fields. If you want them all or just the basics, head over to Burkhard's website to download the 'mini' and 'maxi' versions as well. (They're all included in the download on his site.) He's also got loads of screenshots of the templates there, in their various sizes.