Wednesday, December 8th, 2010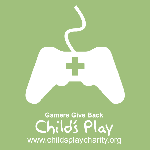 The Child's Play charity was set up a few years ago by the funny folks from Penny Arcade. They collect toys, video games, movies, books and money for children's hospitals in North America (and expanding around the world). Being in hospital is awful enough but it's even worse during the holidays so hopefully these donations make the time a bit more enjoyable and bring some cheer to the kids.
Bruji is proud to be a corporate sponsor for Child's Play 2010 once again. If you'd also like to become a sponsor, donate to the hospital toy drive or just send $5 via text message, check out Child's Play Charity for details.