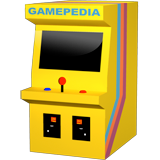 Gamepedia version history
Version: 5.6.1 (09/06/18)
This is the last release that supports the older macOS 10.5 to 10.11.



Open Public Beta:

Version 6.0 will be 10.12 and 10.13 only. If you already have the latest Mac OS, please feel free to jump on the open public beta: http://beta.bruji.com/gamepedia.zip



New:

Stability fixes for pre-macOS 10.12.
Improvements to the Amazon search for reliability.
Number of other small bug fixes.
Version: 5.6 (02/11/17)
New:

Updates for macOS High Sierra.
Pressing space in a tag field will now display the entire list of autofill options.
Smart collection count gets updated for excluded collections on changing custom check box values.
Version: 5.5.2 (26/04/17)
New:

Improved energy efficiency.
Doghouse search speed and interface enhancements.
When showing special filtered results with a footer, clicking the x in the search field will set the filter method back to the user's preferred setting.

Fixes:

links in the details view were not working correctly under 10.12.4 macOS update.
clicking on last read date in statistics and filtering the view to show those results did not work correctly.
mart collections for last seen/read/played did not update immediately after using the Mark As Seen/Read/Played menu command.
Version: 5.5.1 (06/11/16)
New:

Updates for macOS Sierra.
New 'Enter Full Screen' menu command and shortcut Command-Control-F.

Fixes:

Fix for an OS bug drawing borders over the combo box control in graphite appearance.
Bug fix: added a beep when reaching the bottom of the collection with next button.
Version: 5.5 (13/08/16)
New:

Pocketpedia TV support.
Fixes to spacing of filter footer for non-english localizations.
Title attribute of web page added as name for imported links.
Semi-colon handled as divider in CSV import.
Now searches for the ASIN for board games at Amazon, so that drag-and-drop and ASIN searches work for board games.
Total time played is now calculated in the status bar.

Fixes:

Bug fix: Improved Pocketpedia syncing across various network setups.
Bug fix: Fixes to internal linking between entries, where sometimes the right entry wasn't selected in macOS El Capitan.
Bug fix: If the toolbar is not displayed, the list view is now the default view to display.
Bug fix: macOS El Capitan was stopping some users from using the self upgrade feature to purchase version 5.
Bug fix: Rare bug when a smart collection was left without attributes.
Bug fix: Using the contextual menu repeatedly in cover view could work on a non-intended multiple selection.
Bug fix: Issues when changing a smart collection rule from a date field with a set date to a string field.
Bug fix: Custom fields are again displayed in italics in the Fields preference window, to quickly tell them apart from built-in fields.
Bug fix: Linked iTunes tracks with accents in the track name were not playing when clicked in the details view.
Version: 5.4.2 (20/12/15)
New:

5 second delay on updating a smart collections when changing a rating in the table view.
Added megabyte counter to activity sheet for backup zip export, for more feedback during backup process.

Fixes:

Fixed redrawing issue with the cover image and scrolling the collection view.
Under El Capitan Cover flow view would not load right away when switching to cover flow or app launch.
Using a quote character as part of a smart collection rule would incorrectly appear as a backslash in subsequent edits. Furthermore if at the end of the rule, would then cause the smart collection to begin failing.
Version: 5.4.1 (13/10/15)
New:

Full 10.11 El Capitan support.
Use of HTTPS on all server connections that support TLS 1.2
Faster backup zip creation.
New search by date range option, filter searches for "1990-2005" will now be done as a date range.
Faster installation of Pedia extras from https://bruji.com/extras
DogTag field available as smart collection option.
Search scope now displayed as a place holder text and not label.
Layout updates for El Capitan.
Freebase plugin disabled as it's being moved to Wikidata.
New Giant Bomb search plugin.
Added Moby Game drag and drop support for adding items from the website directly.
Moby games captures some missing covers.

Fixes:

Bug fix: index ignores capitalization and sorting as well to place "A" and "a" together.
Bug fix: view file from the links tab for files in the data folder was not working in the previous update.
Bug fix: Backup zip creation was failing on some Macs.
Bug fix: Fix for gradient issue on full screen cover reflection.
Version: 5.4 (3/3/15)
New:

Added 64-bit support for users on OS X Mavericks and Yosemite.
New option to duplicate a collection, using the copy/paste commands or the "Duplicate" command in the collection contextual menu.
Improved localizations.
Autosave for the autofill.xml file has been optimized.
New iSight code for faster and more reliable barcode recognition.
The Wikipedia search now downloads more images.

Fixes:

Bug fix: Rare bug with the autofill that could cause the smart collection rule sheet to freeze up.
Bug fix: when opening an entry twice for editing (by accident) any changes will be saved automatically.
Bug fix: Status column now sorts all images of the same type together.
Version: 5.3.2 (13/12/14)
New:

Horizontal bounce is now turned off in list view to avoid issues with scrolling in Yosemite.
New Add/Edit panel look for header and footer.
New toolbar icons.
New export options icons.
New checked/unchecked style for the list view.
Yosemite optimizations.
Cover flow is faster.
Highlights updated in Add/Edit panel.
New "Command-Option-A" keyboard shortcut for opening an Amazon URL.
PS Vita logo now included in the Platform Image column (thank you Midori from the forum).

Fixes:

Bug fix: Source list does not pop open again if currently collapsed.
Bug fix: Possible iSight crash in Yosemite.
Plugin: Board Game Geek search plugin updated.
Version: 5.3.1 (26/08/14)
New:

Further memory improvements.
Ability to click and drag My Rating in the table view to set different ratings.
Dog tag is now used to detect duplicates when showing duplicates.
Dog tag is no longer editable for moderators of Doghouse.
New eSellerate serial validation framework.

Fixes:

Bug fix: Date picker would close after several fast successive clicks on the month changer button.
Bug fix: Program could crash submitting a large number of entries for contribution to Doghouse.
Bug fix: For a few users the Bluetooth barcode scanner was disabled.
Version: 5.3 (31/07/14)
New:

New Doghouse online library feature (more info)
Version: 5.2.2 (21/07/14)
New:

New modern memory managed, making the program faster and lighter on memory use.
Yosemite bug fixes and updates.
Thinner borders inside the main window to match Yosemite UI.
The Doghouse Mirror command (for moderators) is limited to one entry at a time.
Doghouse contribution is faster now by not contributing entries without images.
Doghouse menu "Remove Dog Tag" is now available from the Doghouse menu.

Fixes:

Bug fix: Date timestamp for foreign locales could be off, if not using the 24 hour clock.
Bug fix: When filtering by developer or genre and then editing the search directly it would remove the entire search term.
Bug fix: Edit window's gear button contextual menu responds on mouse down, instead of mouse up, to allow click and hold gesture.
Bug fix: Under certain Maverick installations it would require a restart of the program to stop syncing all the images and get the latest additions into Pocketpedia.
Bug fix: Debug menu "Remove Orphaned Covers" was not working and removing incorrect covers.
Version: 5.2.1 (24/05/14)
New:

The IF statement is removed for tags representing check box fields in the export when the value is not checked.
Option to make the display of duplicates stricter, where developer and release year must all be equal or empty for it to match as a duplicate. For now it's included as a secret preference to be entered into Terminal: "defaults write com.bruji.gamepedia "Strict Duplicate Match" -bool YES".
Dimensions from Amazon are now automatically translated to metric for users of that format.
Program stops looking for Bluetooth scanner automatically on launch if it is not found after a second launch of the program.
Platform logos for PS4 and Xbox One added for the Platform Image column.

Fixes:

Bug fix: the My Rating stars were displayed in retina size, instead of original size, in the statistics.
Bug fix: previewing additional information to add to an entry could change the stored value of a check box field.
Bug fix: Doghouse email check did not take into account a possible dash in the domain name.
Bug fix: Changing the preference for the fields display was not possible on some Mavericks installs.
Bug fix: Smart collections based on borrower updated right away when borrowing or returning items.
Bug fix: When using Spaces, the edit window could remain in the last space used.
Plugin: Small fix to MobyGames.
Plugin: Mondadori fixed.
Version: 5.2 (23/11/13)
New:

New Doghouse server for faster, more reliable searches and and a modern programming language for future improvements.
Easier sign up for moderators by including an email in the Doghouse settings window.
New tag for details template "isModerator" to indicate the user is a moderator.
Detail view filters are now applied only to the clicked field.

Fixes:

Bug fix: Contextual menu in collection view would act on selection and not on the row clicked.
Bug fix: Improved response time of multiple edit update for smart collections for users with tens of thousands of items.
Bug fix: Changing My Rating stars with a mouse click on the multiple edit was off and made it difficult to select a 5 star rating with clicking.
Bug fix: Bol NL plug-in updated.
Version: 5.1.10 (31/10/13)
New:

New blazing fast server for Doghouse.

Fixes:

Bug fix: Number of hours before automatic email feature sends emails is now correctly reported.
Bug fix: No duplicate emails are added to outgoing messages when updating the borrowed information.
Version: 5.1.9 216/10/13)
New:

Links can be relative to the user folder with file://~/...

Fixes:

Mavericks bug fix: Plus and minus buttons in the Links tab were not working.
Mavericks bug fix: Full view in the details display was not expanding all the way.
Bug fix: Gradient in full screen web view header drawn correctly behind buttons.
Version: 5.1.8 (16/10/13)
Fixes:

Bug fix: A rare validation error could appear in the database when merging changes from Pocketpedia.
Bug fix: Borrowed On date could be interpreted incorrectly as month/day instead of day/month.
Version: 5.1.7 (19/09/13)
New:

The keyboard shortcut for updates from a specific site in the Add/Edit window (Command-Ctrl-[a digit]), now also works on a selection in the main window.
The "Capture cover" feature restores the previously used crop setting between launches.
Command-Ctrl-C shortcut has been added for capture cover art.
Command-Up arrow and command-down arrow take you to the first and last collection when the collection view is selected.
When showing the cover image enlarged (by clicking on the image well), clicking on the image well again will close the main image window.
Smaller code memory footprint.
Smart collections count updates immediately when items are added to the database or changes are made to an entry.

Fixes:

Deleting and then re-creating the borrowed collection did not automatically include currently borrowed entries in that borrowed collection again.
Collection icons now center correctly when using the "Tiny" or "Extra Large" font size option.
Capture cover was displaying the red scanner square by mistake.
Capture cover was not saving the cover for searched items not yet added to the database.
Moderating an entry and mirroring directly from the add panel without adding the entry into a collection could remove the entry's main cover in Doghouse.
Large image window again remembers its given location instead of always being centered.
Large image window now changes along with the selection if left open.
Drop down menu did not match jump to already selected letter when using the down arrow to navigate possible completions.
Under certain conditions multiple edit would not respond to "return" as the default button action.
MobyGames plug-in updated.
Version: 5.1.6 (05/06/13)
New:

"Print Selection" menu option. Bring it up by holding down the option key when visiting the File menu or using the keyboard shortcut Command-Option-P.
The duplicate warning while adding entries now takes UPC matches into account.
The UPC column is automatically displayed in the list view when viewing duplicates for easier visualization if duplicates were detected via UPC.
The "Download Covers from…" command now does a more extensive search based on title and other attributes and not only on unique ID numbers.
The Wikipedia search plugin now adds country URLs if possible instead of the default English.
Statistics.xml and statistics.html files that have been customized by the user can be stored in the program's data folder for prefered display.
"sortByLabel" option in the statistics for alphabetical/ chronological sorting instead of by value.
Years are now sorted chronologically by default in the statistics.
Secret preference to tell the program to move linked files with certain extensions directly into the data folder/downloads: defaults write com.bruji.gamepedia "Automatically Move Link Types" -array "pdf" "jpg" ...
PNG transparency respected in Cover View when PNGs are used.
The grid view baseline alignment is on the bottom edge of the images now instead of in the center.
Small margin update to the grid view for an improved layout.

Fixes:

Improved localizations, especially French.
Importing a file into the program via drag and drop onto the Dock icon did not automatically save the imported data.
Selecting further preference options in the Preferences/Sites would bring up the add panel.
The key localeLanguage was not being set for internal searches with the Amazon plugin.
Improved Collectorz XML import.
Exception that could occur in the logs with certain settings while copy pasting a search string into the list view.
Some long dates with days could be read ambiguously and displayed wrong.
The "Add & New" function would not check for duplicates.
Using the Command-F search command while editing now brings up a warning about unsaved changes.
Scrolling elasticity on the horizontal axis in the grid view is fixed.
Details view would cache local images and not update them when changed.
Version: 5.1.4 (14/02/13)
New:

New: "Last Played History" toolbar button
New: If an error should occur in the Amazon Settings window, it is now selectable to copy information that might be useful to the user
New: All images retina ready
New: Highlighted 'My Rating' stars in list view now golden
New: Updated 'My Rating' stars in Add/Edit window for easier clicking and golden with outline for possible stars instead of dots
New: WiiU icon added

Fixes:

Bug fix: Spanish and French accents are ignored for index creation during export
Bug fix: Toolbar buttons were not being enabled based on the current selection options
Bug fix: Amazon Settings window would continue to expand for additional sign up errors
Bug fix: Covers would not rearrange in cover view after changing the currently sorted attribute
Bug fix: Removed NSReadOnlyPersistentStoreOption warning in console when importing Spotlight data
Bug fix: Last Played per year statistic now reflects the history of the entry, instead of only the last year it was played
Bug fix: Removing the current Last Played History now updates Last Played to the most recent date
Bug fix: Last Played statistics are now based on the Last Played history and not the Last Played field
Bug fix: Under Mountain Lion a Bluetooth scanner might not pair with Gamepedia
Bug fix: Cover flow did not update immediately after an external image was copy pasted into the main image view
Bug fix: Sometimes when switching between search sites the error message for "no results" might contain a limit description that was incorrect
Bug fix: If the database is empty then a sync from Pocketpedia brings in the Pockeptedia data. Great for users who only owned Pocketpedia and decide to add Gamepedia. (This will not bring in cover images but those can be dowlnoaded with "Download Cover from Doghouse" contextual menu command, found in the cover image well.)
Bug fix: Bol IT has been replaced by Mondadori
Update: Game Collectorz import to handle more robust cover import
Version: 5.1.3 (29/10/12)
New:

Partially retinafied buttons - rest to follow soon!
Localization updates

Fixes:

Bug fix: Recently set "My Rating" would be changed after updating entry with the advanced search gear button.
Version: 5.1.2 (22/08/12)
New:

A personal Amazon associate ID is now mandatory for Amazon search.
Improved support under Lion and Mountain Lion for sending automatic emails to borrowers.
Updated hidden preference "defaults write com.bruji.gamepedia "NoBeepOnAdd" -bool YES" to include bluetooth scanner.
Added keys [key:borrowedByFirstName] and [key:borrowedByLastName] for email text templates.
Address Book is not loaded until needed to coincide with new Mountain Lion Address Book warning.
Improved iSight scanning for iMac cameras.
Freebase plugin updated to work with new API address now at Google.com instead of Freebase.

Fixes:

Bug fix: Rebuild autofill command would include data from Doghouse moderator collection.
Bug fix: Import from Delicious Library sometimes would include a single item when importing from custom shelfs.
Bug fix: The lent history from Pocketpedia now syncs backwards to the Pedias when an item is both borrowed and then returned in Pocketpedia before the next sync.
Bug fix: Changed audio feedback to Core Audio to avoid Garbage Collection auto registration warning present in NSSound.
Version: 5.1.1 (14/06/12)
New:

For Mountain Lion (OS X 10.8) compatibility, Gamepedia's code signature has been updated so you will be asked to re-authorize the program in Keychain the first time you run this version.
MobileMe export no longer an option due to MobileMe's discontinuation
Custom tag fields can now be filtered by clicking
New details view template "Easy" with larger font and higher contrast for easier reading
Played/Read imported from Delicious Library 2 into last played field
Improved Delicious Library 2 Importer for user synposis
Moderators can edit the dog tag column
New [key:...Raw] details template key for users who don't want filter links added to certain keys for creating links
Platform images for 3DS, Japanese Super Famicom and virtual console added

Fixes:

Translation tags in RTF exports were not being applied
Bug fix: smart collection with multiple rules might not display the field name for the first rule when opening again for edit
Version: 5.1 (17/04/12)
New:

Pocketpedia support for syncing data to your iPad, iPhone and iPod touch. (Download Pocketpedia from the App Store.)
Better launching of linked files on external hard drives that have changed names or are named the same as other media.
More explicit memory management for some iSight scanning cases.

Fixes:

Cancelling a search could still trigger the results to be displayed.
Bug fix: regression in 5.0.3 "Add & New" button during manual add would not add the second incremental id when using automatic collection ID generation.
Version: 5.0.3 (03/03/12)
New:

Statistic counts, when displaying the same amount, are now sub-sorted in alphabetical order
Folders are no longer displayed as options for the details view style menu when present in the users customizable InfoTemplates folder
Using the toolbar view button to leave the statistics would mean the program would show statistics again after adding a new entry
Last name sorting takes into account middle name for sorting, e.g. "Johann Christian Bach" versus "Johann Sebastian Bach"
Faster last name sorting
Improvements to the FTP feature to make it faster and more stable
Allow paste into a multi-value field (blue bubbles) to go into the edited bubble instead of creating a new one
Drag and drop of Doghouse URLs to add items into a collection

Fixes:

Plug-in fix: BOL NL plug-in updated
Bug fix: Board Game Geek plugin could do a double search when associated with a board game geek URL
Bug fix: iPod classic export could fail for some users who had to then create the directory by hand
Bug fix: previously three lines or more in a multi-value bubble field might hide the fourth line instead of expanding to display it
Bug fix: sorting by last name where the other deep sorting field orders would get ignored
Bug fix: links imported from .gamepedia files exported with version 5 format
Bug fix: migrating from version 4 to 5, smart collections with My Rating criteria less than or greater than were not updated correctly
Bug fix: previous update to selecting a collection with the mouse broke= keyboard navigation of the tab and shift-tab among the collection, entry view and search field
Bug fix: in certain situations the HUD display for selecting a link to open when more than one link is present would not work
Bug fix: on launch the search field did not display its label which showed what the filter search was set to
Version: 5.0.2 (13/01/12)
New:

Last name sorting takes into account Jr. and ignores it.
No longer removes hard coded tags from export templates when they are turned off in the details view display.
Automatic page break added for printing now has a class name of "pageBreak" for CSS styling if necessary, such as page numbers with the CSS counter property.
Help button links added to the preference tabs: Fields, Sites and Autofill.
Last selection is now stored in the plist file for better DropBox support, to avoid modifying the database when only browsing.
Help file now includes an exact list of fields that are contributed to Doghouse.
Typing a letter to arrive at the index point on the sorted column takes into account the "sort" field if it's being used to modify the sort order on the selected column.
Search text is now placed in clipboard for copy/paste into the add manually window after a failed search.
Collection listing leaves item view selected when changing collections to allow for use of keyboard shortcuts on items.
Plug-in menu additions now also appear in the contextual menu for an entry as well as in the main menu.

Fixes:

Bug fix: Collections were not re-sorting after editing an entry in the edit panel and changing the currently sorted field.
Bug Fix: Creating a new database defaulted to show the save panel window inside the current database folder instead of Application Support.
Bug fix: My Rating in FancyIndex template now sorts correctly.
Bug fix: When adding a new item to a smart collection where it does not match, the wrong cover would be displayed for the selected item.
Version: 5.0.1 (28/11/11)
New:

Improved relevance ranking for Doghouse search results
Improved results when searching for more info on existing entries
Return appropriate cover for UPC searches when available
Default associate ID is automatically inserted for users who do not provide one during sign up
Included database validation during upgrade to make upgrade experience from version 4 smoother

Fixes:

Bug fix: Custom text field was not allowing multiple lines and was mistakenly included in the autofill
Bug fix: Selection was not scrolled into view in cover view after returning from a filtered view
Bug fix: Statistics could show a plain blue screen for users running OS X 10.5
Bug fix: Localizations errors fixed
Bug fix: Doghouse moderator collections were not displaying data in the user's language
Bug fix: Text exports did not translate new half star rating correctly
Version: 5.0 (08/11/11)
Most importantly:

Version 5 only runs on Leopard, Snow Leopard and Lion (OS X 10.5 or higher).
Version 5 is Intel only; PowerPC Macs are no longer supported.
Version 5 is a paid update (US$ 12) for all users who purchased the programs before October 1, 2010. Users who purchased the programs after that date receive this update for free.You can run the new version 5 times before it will prompt you for a new serial number.
New Amazon search sign-up: click the help mark in the Amazon Settings window (found in Preferences/Sites) for more information about it or check out the same help file online.

Online searches:

New dedicated media server for the Pedias, Doghouse, with support for all languages and countries. Doghouse is built from Pedia users uploading and sharing their data with other Pedia users so the more you share, the better it gets!
New Doghouse menu. Sign up for a username and password under Doghouse > Settings to reveal the commands 'Contribute Collection' and 'Contribute Selection' which will let you upload a collection or parts of it to Doghouse.
Doghouse moderator positions available - if you're interested, let us know why you would make a good moderator here.
Special Moderator collections to monitor new and updated entries in the database (these will appear after you have signed up to be a moderator and re-opened the Settings window once).
New Freebase search plug-in added.
Amazon Associate tags field for Amazon associates to use their own tags on web exports or directly from the programs.
New Amazon CN, IT and ES searches added to the Amazon search options.
Added series information import to the Moby plugin.
New Italian search plug-in added for BOL IT.
New Dutch search plug-in added for BOL NL.
New French search plug-in added for Alapage.com.
New board game search plug-in added for BoardGameGeeks.
New Wikipedia search plug-in.

New:

10 point rating system with half stars (click on a star again to change to half star).
Now includes boardgame support (search options on , Freebase and BoardGameGeeks).
Added a new field: Artist (specifically for boardgame information).
Added 8 new custom fields: two date fields, two checkboxes, two tag fields (aka multi-value, blue bubble fields) and two regular text fields.
Custom field names can now be changed in the Preferences > Fields tab, removing clutter from Preferences > General. Just double-click the custom field name in the "Fields" list and enter your new title. Mousing over a custom field title in the list will reveal the original custom field name.
Updated the names of several fields: Multiplayer = Gameplay, Special Edition = Edition (now a multi-value field instead of a checkbox), System Requirements = Requirements.
New details view styles.
A new generic detail view template tag that is automatically expanded to include all fields selected in the Preferences > Fields, making the creation of detail templates easier: [key:genericField].
Optimized secondary search options (the 'limit to', 'search for', 'sort by' drop down menus) now show only those available for the selected search site.
Results for advanced info searches found via the gear button in the edit window can now be browsed and previewed before adding the correct one.
Enter a barcode into any active text field simply by scanning it with a Bluetooth or OPN scanner. Outside of a text field, scan a barcode for quickly finding an entry in your database (no need to go into the search field first).
Plug-ins can now have their own preferences accessed through the little gear button in Preferences > Sites. These are accessed through the little gear button next to a site in Preferences > Sites.
Default loan period (found in the Preferences > Fields) can now be 0 if no set period is desired.
New 'Open URL' toolbar button to visit the entry's associated webpage.
New settings for date format based on international standards.
New smart collection criteria: "Cover Image is/is not set", to easily group items without covers.
New HTML command to export locally linked files without copying the file: <meta name="includeLocalLinks" content="linksOnly"> .
New Help files, now also available online under https://www.bruji.com/help/gamepedia.
Cut command for links table now works in the Add/Edit window.
Paste command now inserts new links after the current selection instead of at the end of the list.
Autofill in smart collection values, just like in the Add/Edit window, to avoid typos.
Multiple edit window now gives a warning if you're trying to change the selection while changes in the multi edit window are pending.
Date Added can now be set in the past when adding a new entry.
Series field ignores articles when sorting, just like the Title field.
Creating a duplicate entry via copy/paste changes the selection to the new duplicate.
Added an importer for GCStar Games.
Press the Delete key to stop a Doghouse moderator collection updating itself. Press the Delete key a second time to delete the actual collection. (Opening the Doghouse > Settings once will bring the collection back.).

UI updates:

Several fields have been turned into multi-value fields (the blue bubble fields), including platform.
Info view display (single game information display in the lower half of the main window) has been renamed "Details view".
Some fields including genre, tags and developer, are now clickable in the details view to filter the current collection by that attribute. Similar to doing an internal search but a lot quicker.
Table view area renamed "List view".
Cover view area renamed "Grid view".
New menu buttons at the bottom of the main window for Add Collection, Modify Collections and Close/Open cover image.
Updated toolbar buttons.
Updated source column icons.
Row coloring updated to match Snow Leopard and Lion.
"No Selection" now matches current selected details style template.
Updated animations for details view opening and closing .
New enter and exit fullscreen icons to match OS X.
Header for source list removed.
New, larger header display for list view, including new highlight.
Pinch to zoom gesture added to grid view (turn it on in System Preferences > Trackpad).
Swipe gesture added to grid view and list view (turn it on in System Preferences > Trackpad).
Swipe gesture added to add/edit panel to move to the next item (turn it on in System Preferences > Trackpad).
Different collections can have different cover size settings for the cover view.
Duplicates are now displayed without creating a new collection.
Resize target expanded by 4px so the collections split is easier to target with the mouse for growing and shrinking the source column.
New look for Search window.
Multi edit window now shows state by displaying a dot in the red close button when changes have been made.
Arrow keys can be used to move between results in the add/edit window (the previous shortcuts of Command-N and Command-B still work as well).
New menu locations and optimized placement of commands.
New menu names for some confusing commands (for example: Get advanced info for selection => Update from, Download Cover for Selection => Download from).
'Download from' menu command which downloads a cover image for an entry has been moved to contextual menu in image well. Ctrl-click or right-click in the image well to bring it up.
Cover download options have been expanded to include Google images, available via the contextual menu in the image well.
Added flags to site list in Preferences > Sites, indicating where information comes from and/or which language it will be in.
New status banner graphics (resolution independent and without transparencies).
New header for 'Go to Site' command (including visible URL field for easier web browsing). The 'Go to Site' command is found in the contextual menu of the details view.
Statistics header stays in place to close statistics and change options, with new animations.
New statistics graphs with updated colors and formatting.
New date picker style to match OS X default version.
New look for smart collection rule editor.
New checkbox look for checkbox column in list view .
New tiny preference size for collection text view (found in Preferences > Style).
New keyboard shortcut Command-Shift-G to open and close the results drawer in the add panel.
New mock cover image for entries missing actual covers.
New busy animation at the bottom right to provide information about Doghouse uploads (what it's doing and how many entries are left to process).
New busy spinner next to the collection being uploaded to Doghouse.
Sharper coverflow images.
Keyboard shortcut "Command-Ctrl-[digit]" now works in the search window to switch between search sites depending on their position in Preferences > Sites. (Previously this only worked for advanced searches in the edit window.).
The multiple edit window is no longer modal (the front most window) to allow for browsing in list view as long as the selection of entries isn't altered. If that happens, the multi edit window will close.
The add multiple window displays the name of the selected search site at the top of the window.
Updated links now display at the bottom of the main window when mousing over links in the details view.

Fixes:

Multi edit window now warns when discarding changes and closing the window via the red close button.
Multi edit window now also accepts Command-S as save and close shortcut.
Updated localizations.
The template text for 'email selection' and 'email borrower' are now localized.
Couldn't display two messages that needed confirmation simultaneously.
Description of .gamepedia export style would stay description of backup export after selecting backup.
Multi-value value fields could in some cases display an empty blue bubble when there was no data to display.
Setting default columns was not saving the default sorting.
Smart collection rule for "Game is in collection" renamed to "Collection Name is" to make it easier to find.
iSight scanning paused if Gamepedia is not the active application.
Calendar picker would get displayed behind the multiple edit window and was not usable.
Duplicated entries that had been created via copy/paste in a non-library collection were not being added to the library collection.
Text field template radio button is now selected automatically when selecting a template.
Some online searches containing ampersands (&) where not returning as many relevant results as possible.
Add multiple now has its own search options so the search site can be changed directly in the window instead of having to return to regular search to change it.
CSV imports are more robust now, allowing for only some columns to be quoted, double-quoted escape quotes and newlines inside a quoted section.
After clicking a link to filter a collection (in statistics for example), the previous default search filter would be overwritten.

Technical stuff:

Application digitally signed to avoid having to re-request permissions after upgrade.
Update packages digitally signed for added security.
More reliable self update procedure with request for permission if needed to install.
Garbage collected for modern memory management.
Custom fields names now saved with the program's database file instead of the preferences.
New Gamepedia database file name: Database.gamepd (previously all Pedia programs' database files were called Database.pediadata, leading to confusion). The file will be copied and updated automatically when you run version 5 (or one of its beta versions) the first time.
Version: 4.6.8 (24/8/11)
Fixes:

Top entry in table view could pop out of view with the new Lion springloaded scrollers.
Folders in the Source column could appear collapsed on restart even though they had previously been open.
Minor UI fixes for Lion.
Version: 4.6.7 (20/7/11)
Lion Compatibility Fixes:
"My Rating" was not changeable for some entries, specifically in the info view.
HTML export could cause a crash for some users.
Version: 4.6.5 (22/4/11)
New:

Updated the internal architecture for search plug-ins.
RTF export templates now handle all international encodings, including Japanese.

Fixes:

Setting default columns was not saving the default sorting.
Template files that begin with <?xml are recognized as XML and encoded properly.
Version: 4.6.4 (24/1/11)
Fixes:

The Mail account used for sending emails is now the default account instead of the first account of the list.
Made the non-US Amazon searches more reliable.
Upgraded the plug-in architecture to be more lightweight and faster.
Updated the "Sell at Amazon" feature.
Editing a smart collection based on a checkbox would default the rule to 'not set'.
Several smaller bug fixes.
Version: 4.6.2 (27/9/10)
New:

After sorting a new column the table scrolls to the top automatically.
New menu command "Validate links on file" to check the existence of all the linked files (hold down Option and go into the Help menu to bring it up).
Allow registration with serial numbers that have leading spaces.
Added contextual menu "Create link from link for selection" for pages opened via an already present link.
Removed Listmania and Wishlist search as Amazon is removing them from the API due to low use.

Fixes:

With iOS 4.1 Pocketpedia had trouble synching only updated data, now gets the correct time-stamp again for syching only new and edited entries.
Updated PS3 game icon to new logo.
If the horizontal scroller is present on relaunch, the last entry selected was not being scrolled to.
"Edit" button in text templates was not working for some users.
"Edit" button in HTML templates export now automatically creates customization file for templates with a secondary details template, e.g. the "White" template.
Autofill values could appear for the wrong field in the Preferences if a custom field was named after a regular field.
Automatic email reminders were not being sent in some cases with the latest Snow Leopard 10.6.4.