Who are these people? And what's a Bruji?
Bruji is a software development team made up of Conor, developer, programmer and overall top dog; Alex, PHP connoiseur and MySQL whiz; and Nora, who does all the other stuff.
Our goal is to provide easy-to-use shareware that people enjoy working with. We believe that function and form have to go side by side in order to create a great application. That's why all our applications are kept as simple as possible, blending in seamlessly with other Mac programs; all the while being packed with useful, fun and unique features.
Our namesake Bruji was a very loyal and smart Rottweiler. That's why we strive for our software to be as dependable and fun as man's best friend.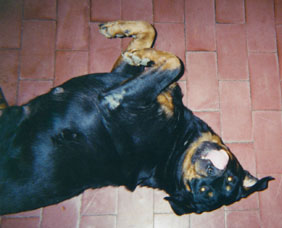 Privacy policy
We take privacy very seriously:
• Bruji will never sell or distribute your personal information to a third party, except when necessary to provide a purchased product or service.

• Bruji will never e-mail you unless you've asked us to. And if you're on our mailing list and want off, e-mail us or use the link provided at the bottom of our newsletter to remove your name immediately.

• Bruji keeps specific order information to provide future service, such as re-sending lost serial numbers. Bruji takes reasonable precautions to ensure the protection of all such personal information.
Refund policy
Unsatisfied with your Bruji software purchase? Send us an e-mail at , help us understand what went wrong (and what we can do better), and we'll do everything we can to help. (Don't forget that we offer free demos of our applications, so you can try before you buy!)
Press Info
Brought to you thanks to...
and last, but not least, some very fearless testers