Search 5.0
The search window is one of the features that has received a major make over with this new version, both in form and function. Let's start by talking about the new UI a bit.
The biggest change for most users will probably be the way the search sites are accessed now. Instead of a drop-down menu at the bottom of the window, the search options are now integrated into the search field itself via the little magnifying glass. Click on it and you'll be presented with the list of search sites.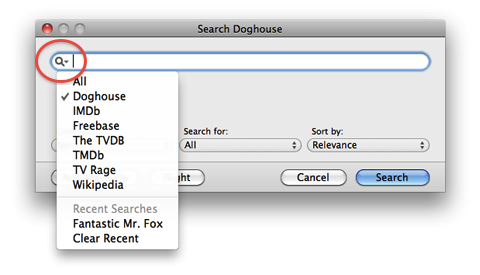 From the screen shot you'll also notice there are two new features connected to the search options: the option for recent searches (so you don't have to retype titles or keywords) and the fact that only those sites you select in the Preferences/Sites show up in your list now so you can turn off any sites you're not interested in seeing.
Previously, unchecked sites in the Preferences/Sites would not be included in the 'Cascade' search – which is now called 'All' – but they would still appear in the search site list.
The other big change is that the limiter menus at the bottom – Limit to, etc. – only show up when they are actually applicable now. So you always know what your search options are for a specific site. (This is also why when you choose the 'All' search no limiters appear since every site has different options. We might try and make the programs smarter about that in the future so that if one or more menu options match for the selected sites, they will appear for the 'All' search.)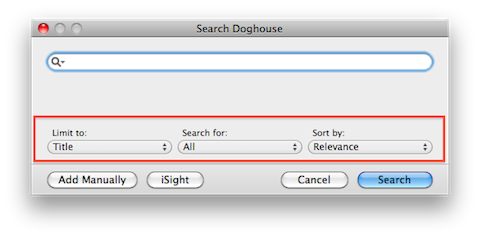 The number of search sites has gone up considerably with this version. Each program now has access to at least 8 international search sites. This includes the Pedias' own new database, Doghouse (we will write a separate and more in-depth blog post about that soon) as well as great open databases: Wikipedia and Freebase. There are also new program-specific sites: MusicBrainz and Discogs for CDpedia, BoardGameGeek for Gamepedia, OpenLibrary for Bookpedia, TMDb and the TVDB for DVDpedia. (And of course Amazon is still an option as well. Learn more about that in this post .)
Some of these new sites offer special search options geared towards their strength. We will dive into details for each site in subsequent posts, but for example MusicBrainz in CDpedia offers a great search by album title but no search by artist yet; we hope to include that in the future. OpenLibrary in Bookpedia lets you search using ISBNs (as the limiter says) but secretly if you enter the exact title of a book, including correct capitalization and punctuation, it can also perform a title search. Freebase has a very broad range of information for all media and offers search limiters by title as well as director/actor and you can distinguish between searching movies or TV shows.
Searching for TV episode information on TVRage or TVDB, you can open an 'add manual' window (Command-Shift-F), enter information into the Series, Season and Episode fields and use the window's gear button to get a specific episode from either one of those sites. Alternatively you can also search for TV episodes by entering the series followed by the season and episode into the search field, like this:
Spend some time with these new sites to get to know their strengths and match which ones work best for you and your collection. Many of these new sites work better with keyword searches than UPCs so give that a try as well.